This. THIS is what I want out of a sci-fi. This was a saga of exploration and discovery condensed and bundled up to be presented to me in the form of a love letter. Reading it was like having a big dinner and finishing full, happy, comfortable, and sleepy. I couldn't ask for more.
To Be Taught, If Fortunate is written in first person, to the reader from the main character, Ariadne. Ariadne is an engineer in a team of scientists, set at a point in the future when knowing that there is life populating planets and moons outside our own little blue planet is common knowledge. Ariadne remembers being a child when such discoveries were big news, but she grew up with the expectation that there was other life out there and anyone could grow up to be a scientist and go exploring. Chambers introduced a delightful little piece of technology in the form of patches which, during torpor, physically change and supplement each astronaut to be able to survive on the world they are sent to. They still wear suits, as Ariadne explains, to protect the native environment from the plethora of microbes and human dander we carry naturally on our bodies that could cause the local lifeforms harm.
"Extraordinary . . . A future sci-fi masterwork in a new and welcome tradition."

— Joanne Harris
The caveat, of course, is the fact that space travel takes time, and if you leave Earth, you leave with the understanding that ages will have passed before you return. Leaving is a sacrifice. You sacrifice home and family and everyone you know to go to unknown worlds and send back knowledge for the sake of knowledge.
This book did not need love and loss and human drama to be delightful (although it had all that too!). Chambers, through Ariadne, explores concepts of evolution, geology, and more in developing the various worlds the characters visit and study. YES, STUDY. These are scientists, after all. I was thrilled to death with the amount of thought she put into how much groundwork had to be laid for these missions and how the carefully the characters interacted with the different worlds. She also spared no pains in putting thought into how the different lifeforms on different worlds would develop, according to their gravity, weather patterns, distance from their suns, and how relatable (or not!!) these lifeforms would be to compare to Earth. It was masterful!
I breathed this novella in a matter of a few days, and it only took me that long because I'm a working mom, haha. Perhaps a bit of a slow start, but quickly gripped me and carried me through the journey in suspense of what would come next. Highly recommended to those looking to travel the stars from the comfort of your reading cubby.
Is It For You?
Genre: Science Fiction
Themes: First Contact, Space Exploration, Our Place in the Universe, Human Fragility, Human Adaptability
Character: Diverse, Diverse cast, Female protagonist
Pace: Slow burn, Building
Writing: First person
Clean Score: 2 for language, 2 for violence, 2 for sex, total score of 6/9. Sexual scenes alluded to (behind closed doors), one character is partial to language, and one violent scene described as witnessed/experienced. To find out more about my Clean Score, click here.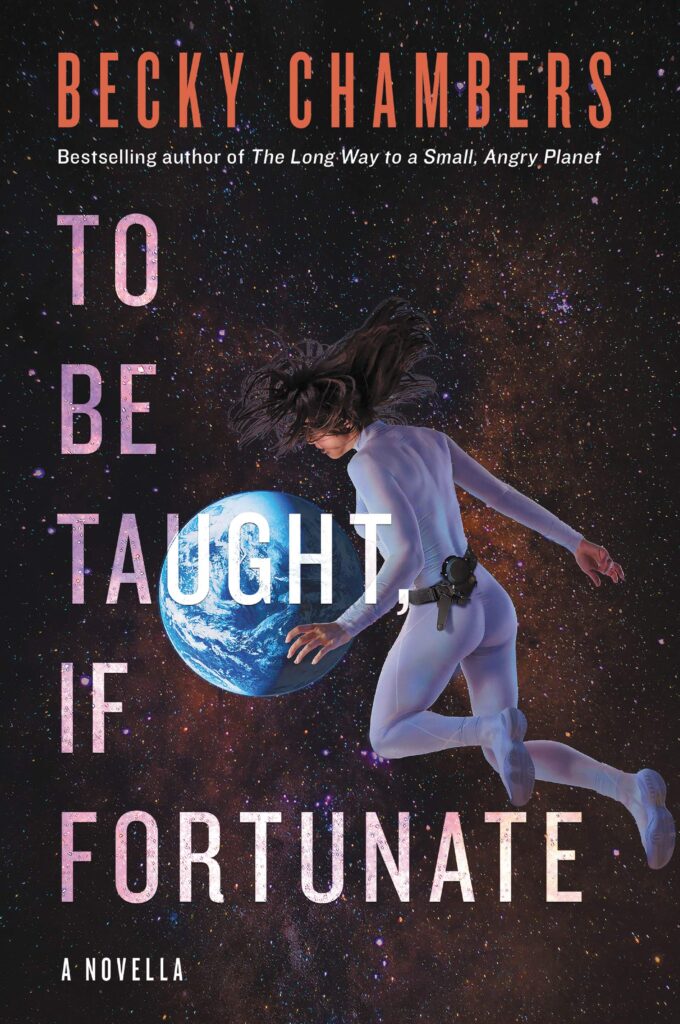 Let's Discuss
What did YOU think of To Be Taught, If Fortunate? Let's discuss your thoughts in the comments below! (If you haven't read it yet, please remember the comments section is NOT a spoiler-free zone!)
Civility Reminder – Meadowlarkin' promotes discussion and healthy disagreement! I believe there is beauty in different people having different voices and opinions. Please respect others, even if they disagree with you. All comments will be moderated.