This review is on the advance copy of an unpublished work I received through NetGalley. Long Lost by Jaqueline West is due for release May 11th, 2021.
I have written and re-written this review several times. Everything I say seems like a discredit to what I truly experienced reading this book. There's something simply divine about being a girl reading a book about a girl reading a book. The story-within-a-story element of Long Lost by Jacqueline West brought me back to my childhood, hiding in a closet with A Never-ending Story, Narnia, Alice in Wonderland, a Wrinkle in Time, ect… I am certain Long Lost would rank among these as one of my favourites. I got cozy and devoured these pages. They took me to another place and time, where anything could happen.
Fiona Crane is a young girl whose family just moved to a mysterious old town in Massachusetts. It was a practical move; her parents are closer to work and her perfect Olympic-skater-hopeful sister, Arden, is only a fifteen minute drive away from where she goes to practice. It worked out well for everyone. Everyone except Fiona. Her life and friends are now miles away, and all anyone seems to care about is her older sister.
Unwilling to while away the hours of the day alone at their creepy old house or watch her sister's practice from the benches, Fiona ventures into the strange old town library. There she encounters unwelcoming residents, a librarian who is keeping a secret, a strange little boy, and a mysterious old book… a book that isn't supposed to be there. You might notice I keep using the adjective "old". And that's on purpose. Everything about the stage upon which Long Lost is set is old. Centuries old. Old books, old town, old library–all of it covered in layers of dust, moss, legends, and deception. If that doesn't thrill you, you miiiight not be an avid bookworm 😉
"Our stories are what connect us."

Jaqueline West, Long Lost
I didn't know much about Long Lost going in. I didn't read the blurb or even know the genre. It was that stunning cover that drew me in. Not every book lives up to what its cover promises, but believe me, Long Lost certainly did. West's writing is fantastic. I've not read her previous works, but I was not surprised to find that this isn't her debut. She handles words like a master artist, invoking all the right sensations to put me right in the shoes of her protagonist. One moment I was cuddled up next to Fiona on the Turkish rugs of the library, the sun warming my back and the smell of musty aged pages in my nostrils, the next I was racing through the cool damp forest with the characters of the book she was reading. Pearl and Hazel. The "sisters who always did everything together. Until one of them disappears."
"A spine-tingling brew of ghosts and half-forgotten mysteries, but just as much, a warm and real story of sibling bonds and small-town adventures. … Perfect to be read late into the night."

Stefan Bachmann, author of The Peculiar
I was enthralled. I got goosebumps as the mystery played out. Fiona's side of the story was every bit as mysterious and compelling as the sisters'. I never skipped ahead to read one because I was bored of the other. The flow was masterful. Fiona was easy for me to relate to–even though she's the youngest of two and I'm the eldest of ten children. But she's a bookworm, and I think, deep down, all bookworms can find solidarity based on that point alone.
A subtle detail I think that parents of children of colour may appreciate when considering this book is that Fiona and her sister are only ever described as having dark hair and brown eyes. Some characters Fiona encounters are specifically described as white. I think these two little details may help readers envision Fiona as a girl of colour, and she may be more relatable to them in that way as well.
I still wonder about the librarian character, what her connection really is and what she really knows. Being a librarian myself, my only complaint is that element did not seem fully resolved by the end, and maybe that was done on purpose. Some authors like to leave the stories of side characters open-ended so that they can be explored in other stories. Again, I haven't read West's other works (yet!) to know if that is the case here.
All in all, this is a book for book-lovers, and it does not disappoint. Highly recommended, especially to those who enjoy ghosts, paranormal activity, mysteries, and, at it's heart, a story about sisters who might not always get along, but at the end of the day are each others' closest confidants.
Is It For You?
Genre: Junior Fiction, Paranormal Mystery
Themes: Family Relationships, Sisterhood, Ghosts, Unsolved Mysteries from the 1800's.
Character: Child protagonist, female protagonist, relatable
Pace: Builds
Writing: Third-person, inclusive
Clean Score: 0 for language, 1 for violence, 0 for sex, a total score of 1/9. No language or sexual content. Some characters get into a fight and hitting/punching is described. To find out more about my Clean Score, click here.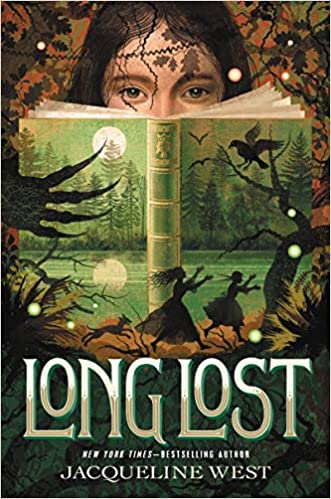 Let's Discuss
What did YOU think of Long Lost? Let's discuss your thoughts in the comments below! (If you haven't read it yet, please remember the comments section is NOT a spoiler-free zone!)
Civility Reminder – Meadowlarkin' promotes discussion and healthy disagreement! I believe there is beauty in different people having different voices and opinions. Please respect others, even if they disagree with you. All comments will be moderated.